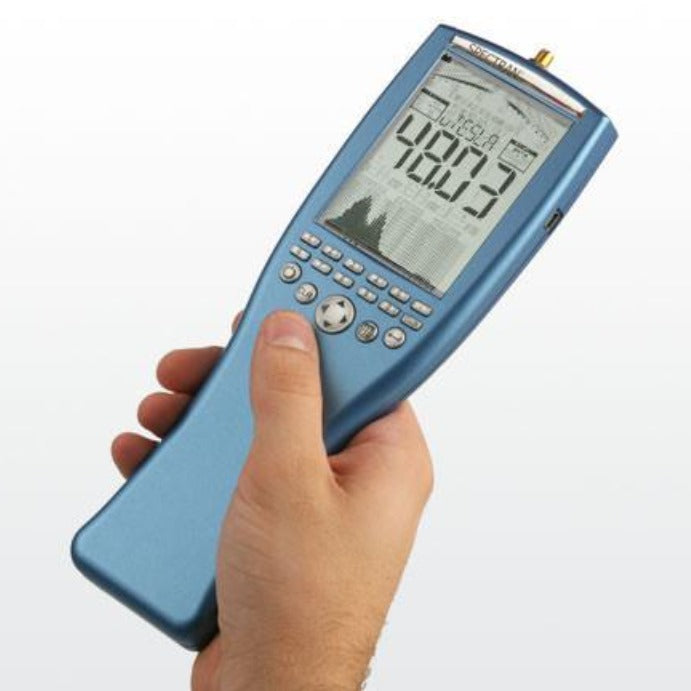 NF-5035 Aaronia EMF Meter and Analyzer
Original price
$ 1,400.00
-
Original price
$ 1,400.00
The Aaronia NF5035 Spectran Handheld EMI Spectrum Analyzer 1 Hz-1 MHz measures the frequency range of 1 Hz to 1 MHz and offers EMC/EMI spectrum analysis providing V, V/M, Gauss and Tesla. The handheld unit is controlled via button-press interface, pre-programmed hotkeys, multi-function jog dial, or remote controlled via USB / PC software. The unit includes an internal 1300 mAh battery offering 2 hours of autonomous run time. The NF 3035 EMF analyzer offers both an internal Helmholtz 3-axis sensor and internal E-field antenna or via the external input, conveniently housed in a lightweight and durable unit. Perfect for pre-compliance testing, leakage testing, magnetic and E-field field measurements, R and D, exposure limits, and general spectrum analysis, the NF 5035 EMF analyzer offers precision measurement, lightening fast Real-Time EMC Spectrum Analysis, and a user-friendly interface. Each handheld EMF analyzer kit includes the full-featured spectrum analyzer software, allowing precision measurements and data collection for both field work and benchtop or desktop laboratory testing.

The NF 5035 handheld EMF analyzer offers the unique ability to perform complex test and measurement in the field without lugging around bulky, expensive, outdated equipment. That does not mean that the NF 5000 series is only valuable for field applications, however. Used in conjunction with the included PC software, these portable and rugged handheld units easily transform into a full-featured bench top spectrum analyzer, complete with remote PC-based control, and extended data logging and playback. The NF 5035 offers a USB interface with real-time remote control to a PC or MAC. The free analyzer software, which is available for MAC OS, Linux and Windows, transforms any Spectran into a powerful measurement solution with great features (e.g. recording, multiple window display, histogram, waterfall diagram, unlimited number of markers, and enhanced limits display etc). The PC software is capable of controlling multiple units, making it extremely easy to switch between several analyzers to perform extensive testing in multiple locations and multiple pre-determined frequency ranges. Each handheld unit also includes internal memory for field-based data logging, and playback and analysis in the PC software interface after taking field measurement.
NF-5035 EMF Meter and Analyzer Features:
Frequency range: 1 Hz - 1 MHz

Measurement range up to DIN/VDE 0848

65 MSPS

Typ. level range E-Field: 0.1V/m to 5000V/m (typ. at 50 Hz)

Typ. level range H-Field: 1pT to 500µT (typ. at 50 Hz)

Typ. level range Analog in: 200nV to 200mV / -150dBm (Hz)

Typ. accuracy: 3%

External SMA signal input

Real-time FFT/DFT spectrum display

Dimensions (L/W/D): 260x86x23 mm

Weight: 420gr

Resolution (RBW): 0.3 Hz to 10 MHz (1-3-10 step)

Detectors: RMS, Min/Max

Units: V, V/m, T, G, A/m

Demodulator: AM, FM

Simultaneous M-Display X, Y, Z axes

3D magnetic field measurement

True RMS signal strength measurement

Average (AVG) measurement

Frequency and signal strength display

High resolution multifunction display

DIN/VDE 0848 exposure limit calculation

Superfast FFT spectrum analysis

High-performance DSP (Digital Signal Processor)

3D magnetic field measurement

Frequency and signal strength display

High-resolution multi-function display

Internal data logger

Internet Flash Software-Updates

USB 2.0 Interface

Spectrum Analyzer Software MCS for Windows, Linux, and MAC OS

Remote control function of several units which can be controlled simultaneously from the same PC

Multiple views at the same time: Spectrum, Waterfall, Histogram, Limits, Chanelpower, Providerdisplay, Time Domain, Results

Powerful Undo-Feature

Customer-specific skins and color-settings

Record and Replay function

Advanced Trigger and alarm functions

Unlimited number of markers
* The item is ordered by demand, so expect a 2-3 week lead time from time of purchase.