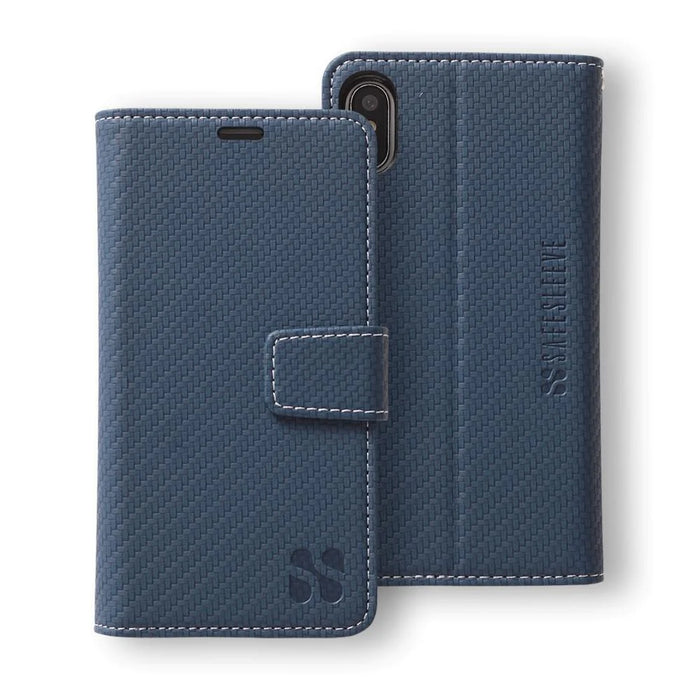 SafeSleeve 5G EMF Radiation Blocking Detachable Case - iPhone XS Max (10S Max)
Original price
$ 69.95
-
Original price
$ 69.95
ANTI-RADIATION AND RFID BLOCKING DETACHABLE WALLET CASE FOR THE IPHONE XS MAX (10S MAX).
So much more than just a phone case. The all new SafeSleeve Detachable contains FCC accredited lab tested shielding technology that can block up to 99% of Radio Frequencies (5G, Wi-Fi, cellular, etc.) and up to 92% of ELF (battery, AC power, etc.) cell phone radiation from your phone. It also includes a built-in RFID blocking wallet and turns into a stand including the ability to magnetically remove the protective inner case for mounting to magnetic car mounts and/or when your phone won't be close to your body. 
Features
*NEW* - Magnetically Detachable, Mount Compatible -- All new detachable style lets you take advantage of the radiation protection and built in wallet and stand, but also provides an easily detachable inner case for situations where your phone won't be close to your body. Some examples are sitting at your desk, a workout at the gym, or attaching it to your magnetic car dashboard mount. 
Anti-Radiation -- Our FCC accredited lab tested radiation shielding material is integrated into the front flap of the outer case to deflect radiation (5G, Wi-Fi, EMF, etc.) away from your body while still allowing signal to enter and exit the back of the phone.
RFID Blocking Wallet -- Did you know thieves can use an $8 device to scan the information from your RFID enabled credit and ID cards right from out of your wallet or purse? Our built-in card slot blocks RFID theft! 
Protective Cases -- Our SafeSleeve Slim Phone Cases are Certified Military Grade Drop Tested (Mil-Std 810G) to provide protection from cracks, dings, and scratches to keep your phone looking and performing like new.
Adjustable Angle Stand
 -- Easily convert your SafeSleeve into a stand for watching videos

*NEW*

 

-

 

Maximum versatility with our

 

new "two in one" magnetically detachable inner case.

 

Quickly remove the outer radiation cover for times when you're looking for a slimmer case that still provides

 

excellent drop protection. NOTE: Inner case does not contain radiation blocking technology.
Simply close the radiation shielding front flap to take a phone call and speak as you normally would.

 

The microphone and ear speaker are uncovered to allow for no sound or signal quality reduction.
When storing in your pocket,

 

face the front flap towards your body

 

to deflect the radiation away.
The flap can be folded behind the phone to shield the back of the device while in use. The front of the device is typically at a "safe" distance from the body.  
NOTE: Our anti-radiation products perform optimally when used properly.
Please contact us directly if you are interested in an iPhone cover for a different model, or own another phone brand and are in need of a shielding case.