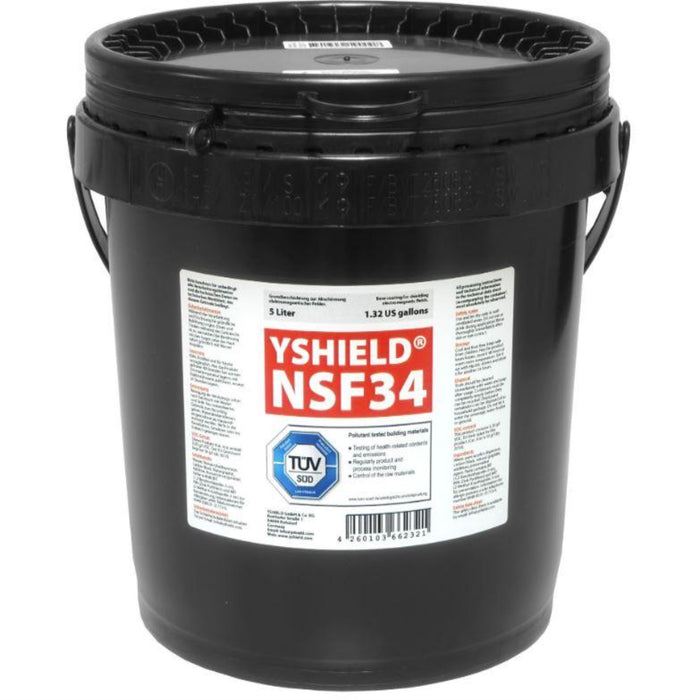 NSF34 Low Frequency Shielding Paint 5L
Save

10

%
Save

10

%
Original price
$ 259.00
-
Original price
$ 259.00
A shielding paint for Low Frequency EMF
Shielding paint for shielding low-frequency alternating electrical fields (NF). No magnetic fields are shielded. Standard product for shielding alternating electrical fields from power lines and devices. Proven ten thousand times over in building biology. Improved again in 2019. Breathable, solvent-free, plasticizer-free and low in emissions. With outstanding physical and chemical properties combined with high ecology.
Features:
Single layer

 

40 dB = 99%

Excellent adhesion to all common surfaces indoors and outdoors.

Can be reworked preferably with plastic-based emulsion paints, emulsion silicate paints, facade paints or silicone resin paints.

Must be grounded! For interior, we recommend the grounding strap 

GSX

 plus grounding plate GS, for exterior the fiber additive AF3 plus the grounding plate GF.

This product is frost-resistant (5 tested frost / thaw cycles) and can be shipped all year round by air / sea.
As a coating in technical applications
With the fine pigmentation of 5 µm, high film hardness, good substrate wetting, high adhesive tensile values ​​and Newtonian rheology our customers have discovered more and more technical applications over the years: Technical shielding of parts, devices, machines or systems. Manufacture of absorber materials or pressure sensors. Screen printing on heating foils or plasterboard.
No nanotechnology
Our shielding colors are developed according to strict ecological criteria. For example, we use the lowest-emission carbon black on the market and untreated natural graphite.
We deliberately refrain from using graphene, a nanomaterial with a still completely unclear hazard potential.
TÜV-SÜD certification
We have our shielding colors monitored by TÜV-SÜD. The entire manufacturing process with quality assurance, the emission behavior and the economical use of preservatives are subject to control. You can find the certificate at the top of the downloads.