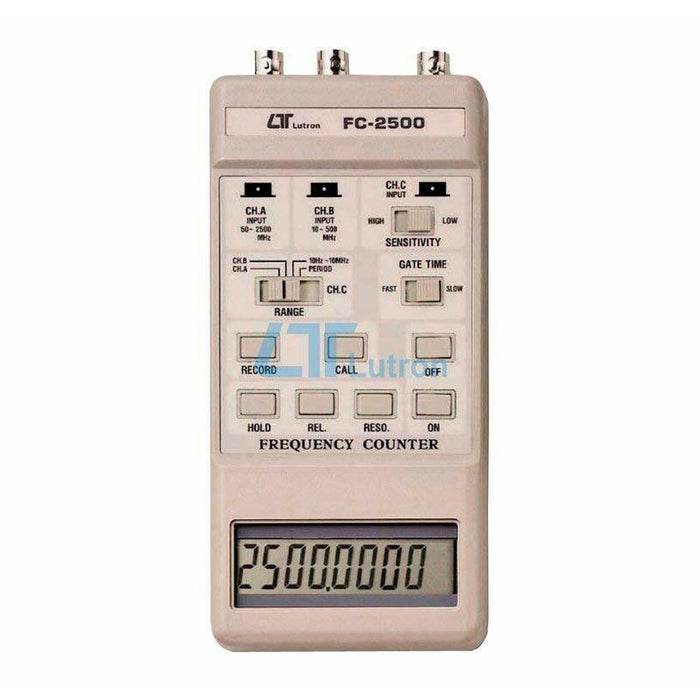 Lutron FC-2500A: 2.5GHz Frequency Counter, handheld type
Sold out
Original price
$ 189.99
-
Original price
$ 189.99
The Frequency Counter is a complex and delicate precision instrument with the following features:
*High sensitivity for the VHF & UHF frequency measurement, useful for the CB amateur.
*Handheld & pocket-size instrument.
*Wide measuring range up to 2.6 GHz. Good resolution, 0.1 Hz min. display unit for 10 MHz range.
*Used the exclusive Microprocessor IC offered the intelligent function: Frequency, Period, Multiresolution, Data hold, Relative measurement, Data record( Max., Min., Average reading).
*LCD display for low power consumption & clear read-out even in bright ambient light condition.
*Auto power off & manual power off.
*The instrument used the low PPM crystal time base to offer high accuracy measurements.
*The optional telescoping antenna accessory can MHz range. be used to pick up transmit frequencies from handheld, fixed, or mobile radios such as  HAM, TAXI, AIRCRAFT MARINE, etc. at ranges approaching 5 to 30 cm(depending on reading).