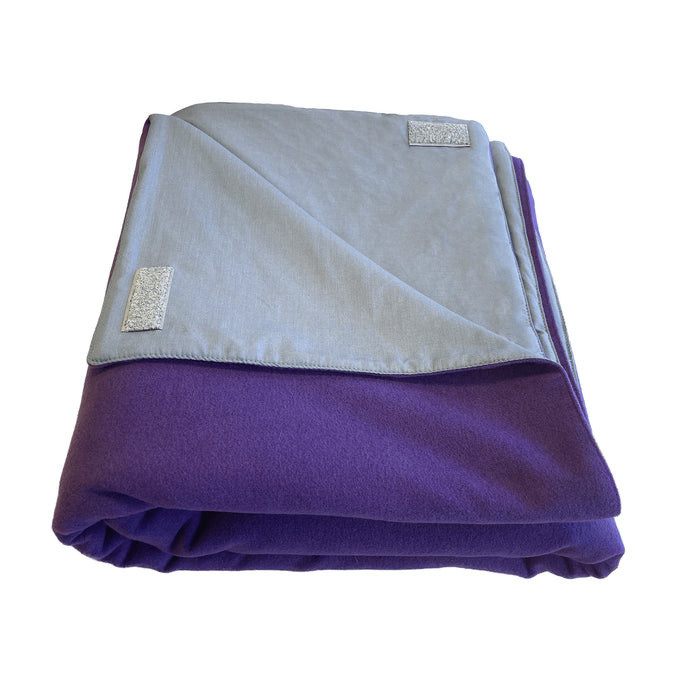 WOREMOR 5G EMF Protection Blanket For HF & LF
Save

11

%
Save

7

%
Original price
$ 269.00
-
Original price
$ 299.00
Designed for your peace of mind, the WOREMOR 5G EMF Protection Blanket comes equipped with two ground connecting points, allowing you to easily attach a grounding kit. When connected and plugged into a wall outlet, it effectively shields you from low-frequency alternating electrical fields. If you prefer to use the blanket without grounding, rest assured that it will still shield you efficiently from high-frequency radiation (HF).
Measuring a generous 79 inches * 56 inches (200 cm * 142 cm), this blanket offers ample coverage, ensuring you can relax comfortably within its protective embrace. Its size makes it versatile for various uses, whether it's draping over your body while sleeping, sitting on your lap during work, or wrapping yourself snugly while watching TV.
The specifications of the shielding fabric are nothing short of impressive, guaranteeing optimal protection against EMF radiation. With an average attenuation of 42dB, it's engineered to deflect harmful waves effectively. The blend of raw materials, including 40% cotton, 30% polyester, and 30% stainless steel, ensures both durability and comfort. 
This remarkable blanket boasts exceptional stability, with a dimension stability of +/- 3%. Its surface conductivity, measured at 100-800 ohms (square resistance), reinforces its ability to protect you from harmful radiation. Rigorously tested and proudly made in Canada, you can trust the quality and effectiveness of this shielding fabric.
To keep your blanket in excellent condition, follow the fabric care instructions carefully. Gentle washing at 30°C in a delicate cycle ensures its longevity. When ironing, use a degree 1 setting without steam to maintain the fabric's integrity. For best results, avoid tumble dryers, bleaching, and chemical dry-cleaning.
Invest in the WOREMOR 5G EMF Protection Blanket For HF & LF and enjoy the comfort and peace of mind it brings. Shield yourself from harmful radiation in style with this thoughtfully crafted, top-of-the-line protective blanket.
Size: 79 inches * 56 inches (200 cm * 142cm)
Specifications shielding fabric:
42dB average attenuation 

Raw materials: 40% cotton, 30% polyester, 30% stainless steel

Dimension stability: +/- 3 %

Surface conductivity: 100-800 ohm (square resistance)

Tested and made in Canada
Fabric care: Washing at gentle cycle 30°C | Ironing without steam at degree 1 | No drying in tumble dryers | No bleaching | No chemical dry-cleaning |