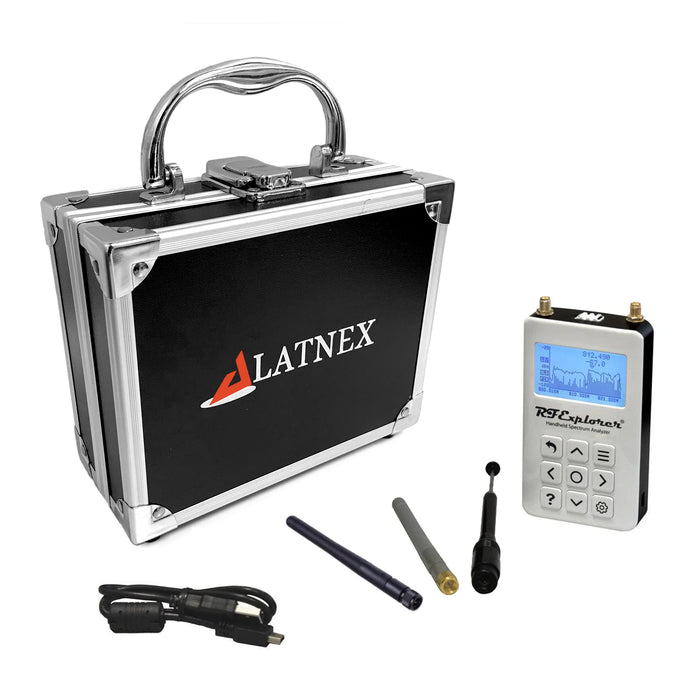 RF Explorer 6G Combo PLUS - Slim
Save

4

%
Save

4

%
Original price
$ 469.00
-
Original price
$ 469.00
The spectrum analyzer  6G COMBO+ is the most powerful Spectrum Analyzer model, covering the full 6GHz range starting at 50KHz up to 6.1GHz, and can be extended up to 7.5GHz with license RFELIC03 and RFELIC05.

When compared to the standard 6G Combo model, the new SLIM design offers an outstanding robust enclosure with a strong metallic body and shiny varnished paint, a more convenient USB connector on the side, and a larger internal battery capacity.
What is an RF Explorer Spectrum Analyzer?
An RF Explorer Spectrum Analyzer is a special device designed to detect very sensitive signal radiation and identify signal interference, tune antenna setups, detect signal leakage and find hidden bugs, among many other applications.
The combination of small size, great sensitivity, and robust design makes it the ideal instrument to carry on for indoor and outdoor measurements.
When connected to a computer, it can be controlled by free software available for download with stunning high-resolution graphics, data storage, and reply features.
How RF Explorer Works?
For best handling work at the desk, we recommend the RF Explorer Holder SLIM

For best results detecting near field signal sources or interferences, we recommend the RF Explorer Near Field Antenna Kit
Features
Internal LNA amplifier and selectable attenuator for additional power range handling.
Low-frequency support from 50KHz covering LF, MF, HF, VHF, and UHF
High-frequency support covering all ranges up to 6.1GHz with no gaps.
New HELP and SET buttons to improve user interface and PRESET configuration selection with 2-clicks
Ideal choice for all usable HAM bands.
Pocket size and lightweight
Solid metal case with high-quality varnished paint
Spectrum Analyzer mode with Peak Max and Hold, Normal, Overwrite and Averaging modes
High capacity internal Lithium battery for 10hs+ of continuous run, rechargeable by USB
Multi-platform Windows/Linux/MacOS Open Source software and API libraries
Specifications
Frequency band:

Left connector: 0.05 – 960MHz
Right connector: 240 – 6100MHz

Frequency span in a single sweep: 2 – 960MHz
Internal selectable LNA 25dB gain
Internal selectable Attenuators 30dB and 60dB
Wifi Analyzer for the 2.4GHz and 5GHz bands
Graphics LCD 128x64 pixels, great visibility outdoors
Backlight for great visibility indoor
Internal Lithium-Ion 1800mA/h rechargeable battery
Standard SMA 50 ohms connectors
Wideband 144/433MHz dual band telescopic antenna included
UHF 400-900MHz rubber duck articulated antenna included
2.4/5GHz dual-band antenna included
Amplitude resolution: 0.5dBm
Dynamic range: -125dBm to 10dBm
Absolute Max input power: +30dBm
Average noise level (typical LNA): -125dBm
Frequency stability and accuracy (typical): +-1.0ppm
Amplitude stability and accuracy (typical): +-3dBm
Frequency resolution: 1Khz
Resolution bandwidth (RBW): automatic 2.6Khz to 600Khz
Support included for Windows, Linux and MacOS X
Applications
RF Spectrum Analysis for FM, TV and DTV, ISM, RFID, GSM, 4G/5G, IoT, GPS, Bluetooth
WiFi analysis and fine-tuning
Interference hunting
EMC pre-testing
RF device tuning (with Signal Generator working as Tracking SNA): Check

 

this link

 

for more details
Part List
1 x Spectrum Analyzer
1 x Mini USB cable
1 x Dual band 144/430MHz Telescopic antenna
1 x UHF 400-900Mhz antenna
1 x Dual band 5/2.4GHz antenna
1 x Aluminium Case