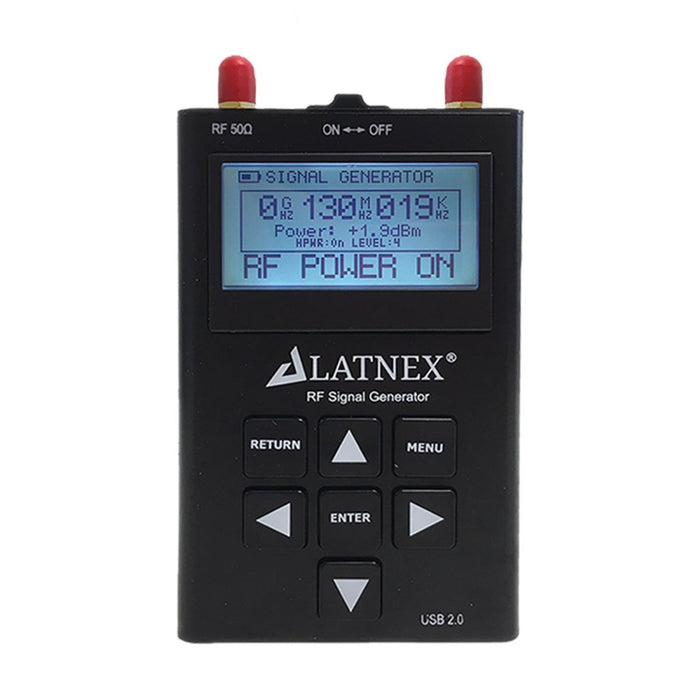 LATNEX RF Signal Generator RFSG6-100K Expanded Frequency Range (100 KHz to 6000 MHz)
Original price
$ 359.00
-
Original price
$ 359.00
LATNEX® RF Signal Generator RFSG6-100K is a major improvement over the standard Signal Generator RF-SG6. The new generator includes important functions requested by our most demanding customers.
The new Expansion product includes harmonic filtering, high-performance amplifiers for higher output power, fine amplitude adjustment and support for frequencies as low as 100KHz covering up to 6GHz with no gaps.
See below comparison of a 25MHz signal generated with new improved RFSG6-100K (in red) and a signal generated with standard unfiltered RF-SG6 (blue). The new RF-SG6 Expansion offers a perfect sinusoid filtered signal as opposed to the squarish unfiltered signal from RF-SG6.
 Features 
Pocket size and lightweight
Solid aluminum metal case
Lifetime free firmware upgrades available, open to community requested features
High capacity Lipo for 10hs+ of continuous run, rechargeable by USB
LATNEX for Windows free software for CW, Sweep and Tracking SNA control
Automation libraries available in Python and .NET, free USB API for any programming language
Wideband support, very stable CW signal output
Fine amplitude adjustment 0.25dB
High output power up to +18dBm
Optional recalibration procedure available upon request
Specification
Frequency range supported: 100KHz to 6000 MHz
Calibrated Amplitude range: -40 to +10dBm
Uncalibrated extended Amplitude range: -60 to +18dBm
Amplitude step/resolution: 0.25dB over calibrated range
Amplitude accuracy (typical): +/-2dB in most frequency and power ranges
Frequency step/resolution: 1KHz
Frequency stability: 0.5ppm
Temperature compensated (0-45C)
Backlight for great indoor visibility and high contrast LCD for outdoor visibility
Standard SMA 50 ohms connector
Spurs: Internal fractional PLL configuration in some cases create spurs typically -50dBc or less.
Harmonics: typical values range about -40dBc for 2nd harmonic, -50dBc for third and higher harmonics.
Switch measurement point speed < 10ms
Graphics LCD 128x64 pixels, great visibility outdoors
PC Windows client supports Windows XP/Vista/Win7 both 32 and 64bits
Functional modes:

CW signal generator at any frequency in the range
Tracking generator functionality working together with LATNEX Spectrum Analyzer when connected to the same PC
Sweep generator between any to frequencies in the range, with selectable step size and speed

CE / FCC / RoHS compliant
  Part List
  1 x RF-SG6 Expanded Signal Generator