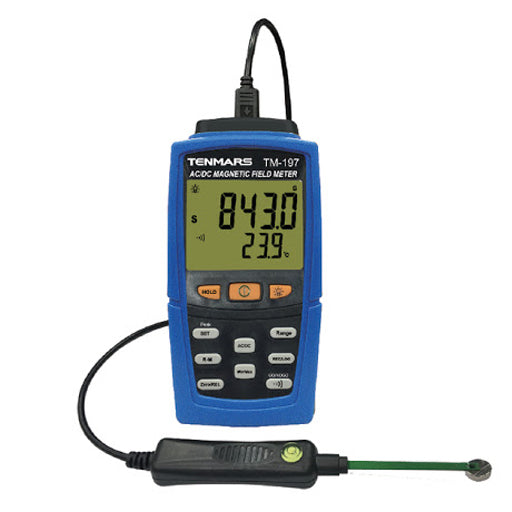 TM-197 AC/DC Magnetic Field Meter
Original price
$ 399.99
-
Original price
$ 399.99
1. Can measure DC and AC(40~500Hz) magnetic field.
2. DC N/S polarity of magnetic field display.
3. After machine component are processed, remain the magnetism to measurement.
4. Magnetic application products, the intensity of magnetic field measurement.
5. After processing the stress with stainless steel material, remain the measurement of the magnetism
6. Magnetic force measurement of the magnetisable material.
7. Various steel products brought magnetic measurement naturally.
8. Electrical home appliances products, the magnetic field intensity measurement of the motor
9. Magnetic field intensity measurement of the permanent magnet.
10. Exceed the leakage magnetic field of conducting the magnetite to measure.
Specification
Range:0~3000mT(milli Tasla)/0~30000G(Gauss), 

The unit converts: 1mT=10G(Gauss)

DC N/S polarity of magnetic field display.

Relative / Peak Hold / Real time Zero function.

LCD Back-light: Manually in a back-light to open And close, connect as connecting the power, in a back-light and long and on, it is in a back-light to connect the power and remove to close.

Auto Range.

DATA HOLD.

MAX/MIN hold.

GO and NO-GO alarm and alarm value set up the function, Production testing.

Gauss/Tesla unit selection.

Manual 200 capacity records.

Auto 6000 capacity data logging, interval is set up by PC.

Maximum and minimum average: record the data downloaded to the computer, automatically out of the calculation of the top 10 maximum / 10 minimum / average.

Transmission interface: USB interface to send data + PC connection application software, real time function.

Power: 9V AAA*6.

Operating temperature and humidity: 5℃ ~ 40℃,

External AC 100~240V to DC 9V/0.5A power supply.
Specifications

Range

Resolution

Accuracy

 


DC milli Tesla

300.00 mT

0.01 mT

±(4% + 10dgt)

2000.0 mT

0.1 mT

2000.1 ~ 3000.0 mT

0.1 mT

 


 


DC Gauss

3000.0G

0.1G

±(4% + 10dgt)

20,000G

1G

20,001 ~ 30,000 G

1G

 


AC milli Tesla

150.00mT

0.01 mT

 


±(5% + 20dgt)

1500.0mT

0.1 mT

AC Gauss

1500.0G

0.1G

15,000G

1G
Temperature
| | |
| --- | --- |
| Range | -20~50℃/-4~122℉ |
| Resolution | ±0.1℃/±0.1℉ |
| Accuracy | ±1.0℃/±1.8℉ |